Without a doubt one of the quickest, easiest and cheapest ways to get a new look in any room is with throw pillows.
So I wish I had the foresight to take pictures of the veritable

time capsule

that my living room pillows were. When I started recovering them this time I cut off the old covers.
Underneath were older covers.
Underneath that were older covers.
Underneath that were the original pillows that came with the sofa.
I think they were about 2 inches smaller than what I started with. :0)
Anyway, I decided to bring some

blue

and

white

into my brown walled living room.
The addition of white I posted about
here
and
here
.
The blue I brought in with my
rooster lamp
, and the new pillows!
Believe it or not this was really the only fabric I could find at Joanne's that had the blue color I was looking for. And honestly I wasn't really sure about it at first.
But I'm an "instant gratification" kinda gal, so I wasn't about to go ordering something online.
And it turned out fine~~because once I started doing the pillows, I really love the fabric.
I used the blue/white patterned fabric, some brown cotton duck, and the white fabric I used for my
bedroom pillows.
I love this family pillow. I got the idea from SOMEWHERE and for the life of me I can NOT find the link!!! I'm so sorry if this is yours! I used iron on t-shirt transfers and played with the font, sizing and placement until I got what I liked, and ironed it onto the white fabric. Then I attached the white piece to the brown cotton with 2 rows of brown stitching and pulled threads to fray the edges.
It's right on the sofa that faces the front door, so it's one of the first things you see when you walk in the door. And I love that.
Then I did a simple white pillow, but put brown bias welt around the edges. I'm fortunate enough to have a commercial machine with a foot designed to make welt, so I can sew yards and yards of this nonsense fairly quickly. And it's soooo worth it. It makes a huge difference in the end result of your products and how professional (or not) they look! If you don't have a welt foot for your machine, you can do it with a zipper foot. It won't be as tight and not as easy, but it's worth a shot!
For the Eiffel Tower pillow I freehanded a simple graphic design, cut it out and traced it onto Wonder Under and the blue fabric, and zigzagged around the edges. I love this pillow. The only problem is it was one of the last I did and I was running out of the brown cotton. It could have been a little bigger. So now it pulls a bit, and sometimes looks a little like an "A".
But I still love it.
I did two of the big pillows~they're just the blue patterned fabric on one side, white on the other, and the brown welt.
The brown pillow I call my "pleats" pillow. I did a band of the white fabric down the center and just stitched rows until I thought it looked good.
The last pillow I did may be my favorite. I just made a simple white cover, and then sewed rows of ruffles across it and frayed the edges:
Now I play musical chairs with all my new pillows...moving them around...which ones together???

I still have more to do in the living room before I do a final reveal of the whole thing. The most glaring issue?

This:




It was this:




A $3 grocery store clearance picture of red flowers. It was pretty, but didn't go in the new blue scheme. So when I was painting the hallway I rolled over it with white primer. And now I'm stuck.

So there it hangs, waiting for inspiration.




I tried saying it was a commentary on the overuse and gluttony of the

throwaway

society in which we live...a symbolic representation of an attempt to declutter a life drowning in materialism and consumerism and recreate a

symbiotic oneness

with nature, purity, and a simple life.

I don't think anyone's buying.

Linking up here: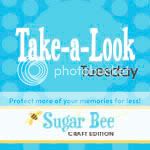 and I Heart Naptime's Sunday Scoop