I browse other blogs (surprise) and am constantly amazed when I read things other ladies write about their husbands. Things like: "I brought this home, and my hubby was like 'why would you buy that trash!?!?!?" or "DH said 'I hope you didn't pay money for that!'"
Because in the googie house it's a little different.
When I mentioned to googiedaddy that I had seen a

hideously tacky rooster lamp

at the thrift shop and didn't buy it, his reaction was more along the lines of: "Are you

crazy

??? Kids, get in the car now--we have to get to the thrift shop before someone buys our rooster lamp!!!"
(those of you who know us know this to be the

absolute unvarnished

truth)
So I kicked myself for not grabbing it the first time, and back we went.
Prepare to be insanely jealous, but for the children's sake try to not let it show:
Seriously, how could I pass this up the first time around???
And wait until you see the price tag:
Yup, $4.99.
Granted, it doesn't work (notice the lack of a cord~~looks like someone cut it off at the base), but that is easily remedied (I think...I have vague recollections of replacing the insides of a lamp in 9th grade Industrial Arts Class. I figure a little google-ing and a trip to Home Depot should fix me right up)
Of course, once I embarked on my

Rooster Transformation Project

, I forgot all about taking pictures. So you get a wordy explanation, followed by end result pics.
First off, two nice coats of gray primer. Then, three-ish coats of Ocean Breeze spraypaint.
Then I let that stew a bit whilst I contemplated the shade. I really wanted to try something like the
pleated lampshade
done by
burlap + blue
. But you know how those roosters are~~they're a

proud

lot. My blue rooster just wasn't feeling a lampshade that might try to edge in on his glory.
So I went with something simpler~just covered the shade in the same fabric that's been making an appearance through my entire home because I have so stinkin' much of it :0) Because it's that typical 'smaller on the top' shade, I folded some deep box pleats into it to take up the extra fabric. It was all done with hot glue (shocking, I know)
And here he is:
You love him, don't ya? You want him, don't ya? TOO BAD! He's MINE!!!!
He's sitting on a table from Ikea that was black with silver legs, which I sprayed white. And he's next to my
framed nest project
. But I'll probably move that, cause it's a little to "theme-y" for me. I think my rooster can stand on his own. hehehe
Linking up here: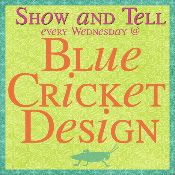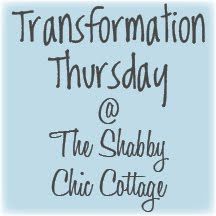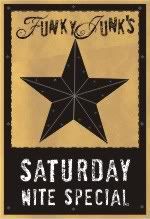 and Frugalicious Friday at
http://decormamma.blogspot.com/