can i just say how much i loved that
ruffled tank
i did last week? and i guess others did too--it got featured on...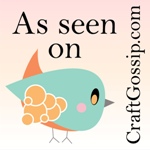 and at childmade!
thanks so much guys!
so you know i headed back up to old navy and bought myself some more tanks.
no real tutorial on this one, but pretty basic stuff--
i just cut strips (vertically this time--not on the bias) i ruffled them up, then played around until i got a design i liked and stitched it all down!
but in case you're curious, here's a bit more detail...
once i laid (layed?) out a basic shape i liked, i started sewing from either end of the neckline and stopped at the point where i made the bunch of ruffles.
then i took all the remaining ruffle and arranged it how i liked it.
clearly a more patient more precise more caring better sewer i would have then pinned and sewn down the entire thing from one end to the other. however, since i'm the world's laziest crafter, i just started sewing across the whole thing willy-nilly. yup, willy-nilly.
(imagine those thick black lines as stitch lines)
this is what it looks like from the inside:
(kind of like a scar, i think)
but you know what? it worked, i like it, and it only took me about 15 minutes--tops.
another $2 tank--woo-hoo!! (mom is soooo jealous...haha mom!)